Mobile Auditing
Inform your employees in mobile tablets, enable them to use for their work and go through your real shelf photos, comparing with your planogram designs.
ERP Integration
Import your ERP data, like items, categories and brands, automatically. Excel is also supported.
Infographics
Now, you can view your prices, profit & sale percentages in 'conditional colors', in your realistic shelf designs. Derin Bilgi is ready for you to make these happen.
Planogram
Shelf Managment System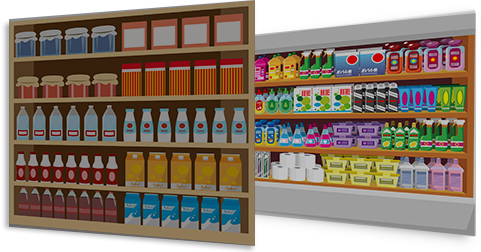 The first and only local planogram system of Turkey
Derin Bilgi released its %100 original Planogram solution, which is supported by TUBITAK (National Scientific Research Institute).
Our planogram solution not only enables you to design your items&shelves, but also makes you capable of using your expertise as a decision support system for item selection and arrangement. You can configure product attributes, performance data, merchandising conditions to choose the right products with appropriate 'face' number and order.
Product Management
Manage all the product data necessary for planogram. You can start by transferring the basic data from your ERP system and create the rest of the planogram data.
Shelf Management
Everything rises on the shelf. Manage your shelf types, templates, dimensions and capacity in this module.
Planning Store Layout
Going beyond planogram, plan your store layout and locate your planograms on units in your departments under sections, flats and stores.
Shelf Design
You can create different scenarios of item arrangement with real product images. You can manage versions of planograms for the same category. You can now make relations between real sale performance and locations of the products in time. You can measure and evaluate what happens to a particular item, when you change the 'face count' or its location in the store.
Planogram Decision Support System
You will not just design, arrange, publish and audit. You will also get decision support for choosing the right products of a category and optimum face counts, within the system.
Derin Bilgi Sistemleri
Founded in late 2006, released the pioneer versions of its ERP, DerinSIS, after two years of architecture and development. Scaled the system in growing projects in the following years.

Our commitment is implementing perfect projects together with sharing our expertise, to overcome the inefficient processes and enable our customer in scaling their business.
Contact
Us
Please contact us for more information about Planogram.